What is User Experience? Everything You Need to Know  (Part 1)
The foundation of a successful brand lies in their customer relationships. Even if you have an amazing product or service that could help your target audience, there are a lot of key factors that come into play.
User experience design is one of the main elements of a successful brand that helps establish a connection with your audience. It plays a big part in marketing, that not only has direct impact on revenue and conversions, but also build your brand's perception for users.
Often business owners relate UX design only with the visuals or the interface of a website or an application.  But they miss out on the most critical part of UX – it takes human psychology into account to build credibility, generate trust, and maintain customer relationships.
Before we dive in the details of UX and why it is important for your business, let's first understand what it really means.
What is UX?
Traditionally, user experience (UX) is the perception and responses of an individual from interacting with a product, service, or system. This includes a website, mobile application, software, and basically any form of interaction with a human/device.
While this might have been sufficient to define UX in the early days, the digital industry and consumer market has changed dramatically over the years.
Today, user experience is not just defined as the perception of your brand overall, but it encompasses different components. For instance, UX design considers each and every element that contributes the experience, how easy it is to use for the user, how it makes the user feel, and how quickly users can navigate through it.
User experience is basically a blend of science and arts while using different behavioural rules to ensure that it helps improve the user experience and builds a better perception. It includes all the emotions users might feel as they interact with the service, product, or system, and considers their responses, behaviours, and perceptions.
Now building a great UX might sound intimidating to some people, which is why, brands often tend to leave it out from their branding and customer relations strategy. However, it's worth noting that UX is a critical component of any business, irrespective of your industry, product/service, and target audience.
Why is UX Important for Your Brand?
UX is undeniably one of the core parts of your customer experience. From a user perspective, a good UX design helps users navigate the system and achieve their goals (e.g. searching, purchasing, bookmarking products, etc) in an easy and effortless manner.
The easier it is for your customers to perform actions on your website, the more they are likely to engage with your brand.
 Because let's face it. If you design a website that's hard to use, and doesn't provide any value to your visitors to achieve their goals, they are more likely to leave feeling frustrated and probably won't consider coming back to your site.
In a nutshell, a good UX should be intuitive and well designed for your users so that they don't have a steep learning curve understanding just how to navigate through the system.
Here are some major reasons why you should focus on User experience.
Increased Return on Investment (ROI)
Whether you are running an ad campaign on social media platforms or offering discounts via your newsletters, one of the key factors you must consider is the ROI.
In terms of UX, the ROI depends on how effective your user experience really is.  Improved UX can make your buyer journey more streamlined, making it easier for them to go through the different phases of a sales or marketing funnel.
For instance, if a user wants to use a discount code from one of your newsletters, they should be able to navigate from within that newsletter to your website or application and should be able to apply the code easily. So basically, the time taken from the lead to the final purchase can be shortened with the help of a good UX.
 This in turn increases your ROI and your customers are more likely to be satisfied with your services.
Enhanced Customer Loyalty
If your customers have a bad experience on your website, they might just start looking for alternative brands and not come back anytime soon. This could be a potential lead who might have brought in a lot of value to your business – made purchases, recommended your brands to friends and family, engaged with your other customers, etc.
Now, a good UX could not only make it easier for customers to use your website, or system, but also increase engagement, generate better leads, increase conversions, sales, and revenue. So, if your website wows your users, you will begin to garner leads and in turn, loyalty from customers who'd swear by how amazing their interactions have been with your website.
The longer your customers stick around, the better it is for your business in the long haul.  
Role of Copywriting in UX
Copywriting is done to achieve certain goals. This could be promoting your product, providing value-rich content to your users, driving more leads, conversions, sales, etc. When it comes to UX, copywriting is aimed at making content enjoyable and easier to understand for users.
Now there's a specific term for it – UX Copywriting. It is not the copy that drives your users to buy a certain product, but instead, it is what facilitates the process of your user from the product page to the payment page. It includes micro content including buttons, menu headers, pop-ups, page headers, instructions, and all the tiny content pieces that make a web experience more fulfilling and complete.
Even simple buttons or information that helps the user gain a better understanding of your website or product, can help enhance your user experience.
For instance, a good UX copywriting is often more direct and promotes one-on-one interactions with your users that are easy to follow.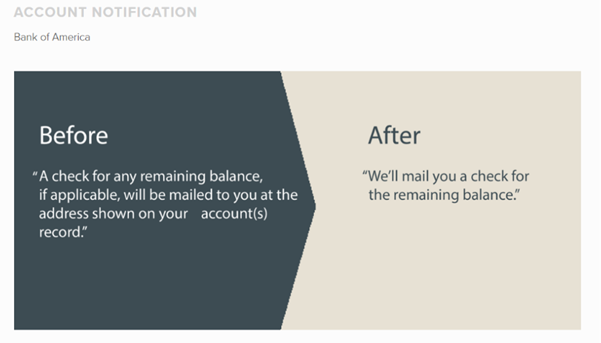 When you see this image, you can instantly judge that the "After" content seems much better and clear than the "Before" one. While the context is exactly the same on both the sides, the difference is that the right one is easier to understand and takes lesser time to read. This is exactly how UX copywriting engages users with your brand.
Let's take another simple example.
When you see this post, you are instantly hooked with a compelling headline. Right above that, you can see the author's name and the microscopy i.e "6 min read".
With this simple set of information, you can get a gist of the blog and answers to questions like:
What is the blog about? Does it interest you?
Who is the author of the blog?
How much time do you need to set aside to read this blog?
While the first two are basic elements that give the reader information about the blog, the third element, time duration, indicates the time needed to read this blog post.
The time duration acts like a button to persuade people to click it by providing additional information that helps them decide if they want to engage with the blog further.
In addition to this, also note that the UX design which makes the user experience more enriching:
The title is displayed in BOLD FONT which makes it stand out, easier to read, and understand.
The "Follow" button is coloured and interlinked with the author's profile. Readers can simply click on the button and follow the author.
The text is centred so readers' eyes are focused right where the button should be clicked.
 Copywriting and UX Design are intertwined, in fact, one can say that one fuels the other.
Takeaway
Whether you are a small business owner or a large organization, a great UX is a must for fostering a strong relationship with your audience. If you think your website or application needs a UX make-over, you can get in touch with our expert UX designers here. We can also schedule a one-on-one consultation call to help you guide through the process and understand the roadmap to a better, more engaging UX.
Don't forget to read part 2 of the What is User experience?
Welcome to Integration Yantra, where we strive for excellence in all aspects of creative marketing, digital marketing and eCommerce Development Services and Solutions. Our team is made up of talented subject-matter experts (SME) who are passionate about what they do. From our writers who meticulously research and craft blog posts to our UX designers, developers, testers, and marketers who work together to deliver the best results possible, we are dedicated to providing our clients with the highest level of service. Read about our services here.